Need A Professional Plumbing Company in Suffolk County?
There's nothing worse than having a clog in your drains, but when that happens, it can be the end of your day or more. Luckily, an emergency plumber can get you out of a jam and have you back to normal in minutes.
Roto 24/7 is a Plumbing Company Suffolk County that provides same-day service. We are a full-service plumbing company that will get you back up and running with a quick response time. Whether it be a water line break or a clogged drain, we can help!
Our range of plumbing services includes basic installations, repairs, maintenance, and even emergency plumbing within the Kings Park area.
All our technicians are certified to handle any job, no matter how small or how large. Roto-24/7 guarantees your satisfaction with any work done, so if you're not satisfied, give us a call, and we will fix the problem immediately.
We also offer a 24-hour emergency service covering anything from a backed-up sewer line to a broken drain. We will be happy to give you a free estimate of any job that you do. No matter how simple the repair is, it's our goal to leave completely satisfied with the work we have done.
Why You Should Not Ignore A Clog In Your Drains
It's a good idea to make sure you get a plumber from Roto-24/7 to get your drains working properly. The clog in your drain may be small, but it can cause a big mess. If not addressed, this could shut down an entire city or even a neighborhood. Roto-24/7 is available 24 hours a day to prevent any disruption in your life.
We will ensure that your drains are flowing smoothly by fixing the clog to avoid further problems.
Why Choose Us For Your Plumbing Company in Suffolk County?
We have years of experience in the drain cleaning business and encountered all kinds of clogs. From grease clogs to hair clogs, we have seen it all. We can get your drains working correctly in no time at all. If you have a clog in the drain, don't wait to get it fixed. The longer you wait, the larger the clog will grow and cause more destruction to your drain.
Drain clogs can also cause severe odors. It can be due to rotting food, chemical spills, or other things that you need to deal with. The faster you can get the clog removed, the better off you will be. The longer the clog is allowed to grow, the more damage it will cause to your drains that should not take long at all to fix.
A backup can be a costly problem. In Suffolk county, water bills can add up quickly when a clog causes a jam. Even if you live in a small area, fixing your drains can cost thousands of dollars.
If you think you may have a clog or need more information, please give us a call, and we will be happy to assist you with any jobs.
Roto-24/7, Plumbing Company Suffolk County, is happy to provide information to help our customers understand the problem they are experiencing and how we can fix it. Give us a call today, and we will be happy to share our knowledge with you.
Contact Roto 24/7 for for your plumbing emergencies.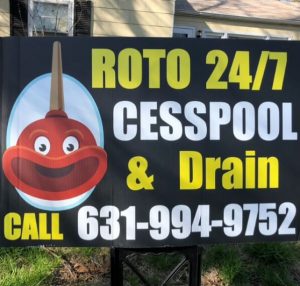 Contact Roto 24/7 for Drain Cleaning Today!
24 Hour Emergency Services

Sink Drainage & Drain Cleaning

Rooter Services

Clogged Toilet

OUR LOCATION
Roto24/7
10 Plantation Dr.
Smithtown, NY 11788
CONTACT US
24 Hours a day, 7 days a week
(631) 994-9752