Are you looking for the best plumber Suffolk County? If so, you have come to the right place. Plumbing emergencies can happen at any time in the day or night. That's why it's important to have the contact details of a licensed plumber with you.
You can rely on a licensed, emergency plumbing service to fix whatever plumbing issue in your home. Here are some of the many benefits of hiring a licensed and emergency plumbing service in Suffolk County to fix your plumbing problems.
A licensed plumber is far more educated and qualified to handle whatever plumbing issue in your home compared to an unlicensed plumber. A licensed plumber is trained to solve plumbing issues quite efficiently and displays manual dexterity. These professionals have spent many years working as apprentices to learn the best practices in the industry.
Drain Service Suffolk County
Obtaining a plumbing license isn't easy. One should pass a licensing examination as well as complete prerequisite training outlined by the state board to become a licensed plumber. A licensed plumber is always up to date with the latest technologies and products in the industry. That's why you need to rely on a licensed plumbing service when you have a plumbing problem in your home.
You can expect much better quality work from a licensed plumber compared to an unlicensed plumber or handyman. They get the relevant experience by serving as an apprentice for a particular amount of time. An unlicensed plumber may not do a good job or do an incomplete job where you would have to spend more money to correct the problem. Structural damage to the property cannot be ruled out under such circumstances. That's why you need to rely on a professional licensed plumber for all your residential plumbing needs.
A plumbing license is more than just a piece of paper that enhances the professionalism of the individual. It's a sort of legal permission that allows the plumber to operate a plumbing business in a specific state or city. That's why you need to seriously think about hiring a licensed plumber when you have a plumbing problem in your home. You will save time and money in the long run by working with a licensed and experienced plumbing company in Suffolk County.
Suffolk County Licensed Plumbers Are Insured
Most unlicensed plumbers and handymen are not insured properly. You might be liable for medical bills and lost wages if you hire an unlicensed plumber and something goes wrong during the repair process. A licensed plumber should be insured and carry appropriate liability coverage to obtain the license. You don't have to worry about injuries to the plumber or damages to the property when working with a licensed plumber because the plumber's insurance company will pay for such incidents.
If you are looking for the best licensed plumber Suffolk County, you don't have to look further than Roto 24/7.
With over 20 years of experience in the industry, you can always depend on Roto 24/7 for all your plumbing emergencies in Suffolk County.
Call today if you are in need of a Drain Cleaner Suffolk County.
Contact Roto 24/7 for for your plumbing emergencies.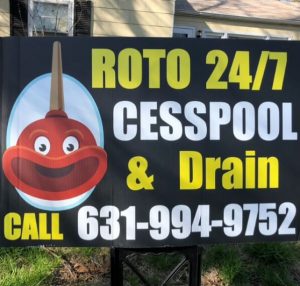 Contact Roto 24/7 for Drain Cleaning Today!
24 Hour Emergency Services

Sink Drainage & Drain Cleaning

Rooter Services

Clogged Toilet

OUR LOCATION
Roto24/7
10 Plantation Dr.
Smithtown, NY 11788
CONTACT US
24 Hours a day, 7 days a week
(631) 994-9752