There are a great deal of professional plumbers across the Island, but finding that one special Plumbing Company in Huntington can be tricky. Roto 24/7 located in Smithtown, has over 20 years of plumbing experience and we can be that plumbing company you are in need of.
Why Choose Us For Your Plumbing Company In Huntington?
Roto 24/7 is a Plumbing Company that provides same-day service. We are a full-service plumbing company that will get you back up and running with a quick response time. Whether it be a water line break or a clogged drain, we can help. Our services are available 24 hours a day 7 days a week.
It's even in our company's name! To ensure your satisfaction, we make sure all of our technicians are certified to handle any job, no matter how small or how large and with that if you're not satisfied by the job, give us a call, and we will fix the problem immediately.
Did you know that when there is a plumbing problem, your water bill can go up dramatically?
Do you really want to just sit back and think to yourself that you will get to the problem later or call a plumbing company in Huntington when you get around to it because the problem isn't that bad? Short term, sure the problem may not be but long term it will.
Roto 24/7, A Licensed & Insured Plumbing Company In Huntington
Roto 24/7 will come in and assess the situation and accurately handle the issue for you to prevent you from spending any more money than you should. Roto 24/7 specialize in a wide range of services. Here are just a few of those areas. Water heater installations, repairs, and maintenance.
We specialize in all types of electric and gas water heaters. Installations, repairs, and maintenance of sinks and faucets in all rooms such as the kitchen, bathroom and utility room. We are experts with water pipes repair. So, whether your water pipes leak or are completely broken, we will fix them. We have the ability to detect the leaks and repair water pipes to ensure a steady water flow in your home or office.
So why choose Roto 24/7 as your plumbing company in Huntington?
Other than having the experience and knowledge, we are licensed and insured which can be used to your advantage in case of some sort of accident that happened on the job. You will not be held accountable or liable for any damages.
Some plumbers are not licensed there for not insured properly, which can ultimately cost you more than you ever imagined.
Plumbing Services We Offer In Huntington
If you are interested in our services, do not hesitate any longer, give us a call at (631) 994-9752 to schedule an appointment with us to come to your location so we can take care of your plumbing problems but solving them in a timely and professional manner.
You may also contact us via email if you prefer. Scroll down to the bottom of the webpage and just summit your requests by following the prompts. We will get back to you as soon as possible.
Contact Roto 24/7 for for your plumbing emergencies.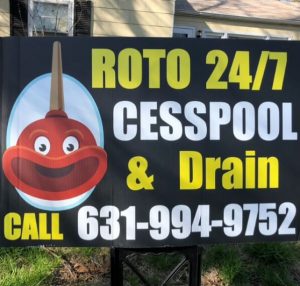 Contact Roto 24/7 for Drain Cleaning Today!
24 Hour Emergency Services

Sink Drainage & Drain Cleaning

Rooter Services

Clogged Toilet

OUR LOCATION
Roto24/7
10 Plantation Dr.
Smithtown, NY 11788
CONTACT US
24 Hours a day, 7 days a week
(631) 994-9752