Typically a plumbing emergency or drain problem takes place at a less-than-convenient time, such as in the middle of the night, over the weekend, during a holiday, or/and when company is staying over. Whenever you need an Emergency Plumber Huntington, Roto 24/7 will come to your residence quickly and with an affordable price! We get it that time is of the essence! We're just a phone call away and will be there to tackle your emergency, day or night! Our technicians are true professionals with lots of experience! Additionally, they're extremely knowledgeable and truly have a heart to assist you with your emergency in a kind, efficient, and understanding manner!
We've been in the plumbing business for more than two decades and have obtained a long list of satisfied customers over the years who continually recommend us to their friends, neighbors, and families! We provide a full range of services that include leak repairs, toilet repair, unclogging drains, and fixing sewer line stoppages. In addition, when you do need Emergency Plumber Huntington services, not only are we available to assist you 365 days a year, we'll provide you with some tips regarding what to do to mitigate any damages while we're on our way, such as locating and turning off the individual shut-off valve for the fixture in question, which is typically located underneath the fixture and near a wall. Taking these types of steps can potentially save you from having to pay for additional home repairs and also lower the stress level that this type of situation can cause home owners and their families!
Emergency Plumber in Huntington
Not only does Roto 24/7 offer amazing Emergency Plumber Huntington services, we're great at routine, everyday plumbing needs, no problem! We can easily provide you with such conveniences as scheduled maintenance, diagnosing which services may be needed via the use of a camera inspection, as well as clearing out sewer lines, kitchen, and laundry drains, taking care of discolored water issues, resolving galvanized pipe problems, and even repairing items like landscape drainage! Whatever the situation, our technicians have many years of experience, plus the necessary and most modern tools and equipment to resolve any plumbing issue you might have!
If you'd like to find out more about all our Emergency Plumber Huntington services, along with other plumbing issues we can take care of for you without any fuss, please feel free to visit our website, www.drainagecleaners.com and browse through the different sections, including our Projects and Photos page. You're also most welcome to give us a call and talk with our friendly and informative customer support staff at (631)994-9752. Furthermore, we'd like to let you know that we're a sewer and plumbing service company with a ton of five-star reviews for you to peruse! Roto 24/7 is well-known throughout the Long Island area for our honesty, timeliness, and high skill level! We have a reputation for going above and beyond to make sure that our customers are satisfied and genuinely want to use our services again in the future, as well as recommend us!
For Sewer Cleaning in Huntington, call to request our services.
Contact Roto 24/7 for for your plumbing emergencies.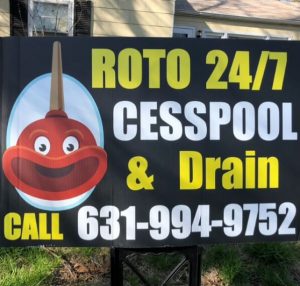 Contact Roto 24/7 for Drain Cleaning Today!
24 Hour Emergency Services

Sink Drainage & Drain Cleaning

Rooter Services

Clogged Toilet

OUR LOCATION
Roto24/7
10 Plantation Dr.
Smithtown, NY 11788
CONTACT US
24 Hours a day, 7 days a week
(631) 994-9752