Do you require a plumber on Long Island? If you are looking for a licensed and insured, reliable and professional plumber in Long Island than you have found them. Roto 24/7 located at 10 Plantation Dr. Smithtown, NY is your one stop shop for all your plumbing needs.
With over 20 years of experience under our belt we have witnessed it all. Our services range from simple to complex plumbing problems. We work on commercial and residential locations at any time of the day and night. It's in our company's name! We offer emergency services every day of the week, no matter the time.
Get Long Island Residential and Commercial Plumbing Services Done Right!
As professional's we always recommend that you do your research with who you hire to work on your project. Sure, it may be cheaper to hire someone who isn't licensed, but we can assure you that liability comes with an even bigger price tag. You can be held responsible for medical bills and lost wages if you hire an unlicensed plumber and something goes wrong during the repair process.
Roto 24/7 is properly licensed and insured, carrying appropriate liability coverage to assure that the customers are not at risk of being held responsible for any damage done to the plumber during the repair.
Finding an a trust worthy, honest, professional plumber in long island can be tricky if you do not know what to look for. But Roto 24/7 has proven time and time again that that is exactly what we are and what you will get when you give us a call to help your plumbing needs.
We have nothing to hide. All of our certificates are up to date and valid, along with the knowledge of how to assess the plumbing situation. Truth be told, it is never a good idea to DIY a plumbing problem because it could make it worse. That is pretty much the equivalency to hiring an unlicensed plumber to come in to take a look.
Roto 24/7, A Long Island Licensed & Insured Plumbing Company
The professionals at Roto 24/7 do not want you to worry any more than you already are when it comes to pricing. We estimate the prices fairly and our competitors can never match them. Not only do we get the job done in a reasonable time and done correct the first time around, but it is always at a fair deal.
Granted, there are several DIY projects you can do without the touch of a professional. Just make sure that you know what those are before you decide to tackle them. Simple jobs could just be a quick unclogging of the sink, or adjusting the flapper in the tank of the toilet to stop a running toilet.
Call Us Today For The Best Plumber On Long Island
If you need a plumber in Long Island that is reliable, resourceful, trustworthy and honest Roto 24/7 is your company.
We are on call all day every day and can be reached at (631) 994-9752. Or if you have any questions, please feel free to contact us via email, scroll down to the bottom of the page and just summit your information and questions, and we will get back to you as soon as we can.
Contact Roto 24/7 for for your plumbing emergencies.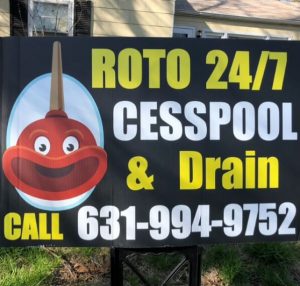 Contact Roto 24/7 for Drain Cleaning Today!
24 Hour Emergency Services

Sink Drainage & Drain Cleaning

Rooter Services

Clogged Toilet

OUR LOCATION
Roto24/7
10 Plantation Dr.
Smithtown, NY 11788
CONTACT US
24 Hours a day, 7 days a week
(631) 994-9752