Do you require a plumber in Kings Park? Now-a-days it is simple to try to fix a plumbing issue on your own. With a few searches on the internet, you are surely going to find a step-by-step instruction video on how to take care of a leaking pipe or a clogged sink. But that could come with the risk of causing issues with the inner piping and plumbing of your home which is when a professional should be called in.
Get Residential and Commercial Plumbing Services Done Right!
So if you are in search of a plumber in Kings Park, know that the licensed and insured plumbers at Roto 24/7 located at 10 Plantation Dr, in Smithtown will come in and correct any problems that have occurred.
There are several signs that a professional plumber is your best bet instead of relying on a how to video you found on the internet.
Those signs are as follows: Clogged drains, gurgling sounds in your drain, water pressure that's too high or too low, water takes a long time to get hot (or doesn't get hot at all), and or appliances don't work or move slowly for example if your dishwasher takes several hours longer than intended.
If you are seeing any of these signs it is highly recommended to get this taken care of asap.
If left untreated the damage can become extreme and be costly to repair.
Sometimes however unexpected plumbing issues arise, which is when you will need emergency services. Roto 24/7 is here for that. We are at your beck and call at any hour of the day or night.
Let us be known as that go to plumber in Kings Park if you experience any of the following plumbing emergencies: No water comes out of sinks, a burst or leaking pipe, a sagging ceiling or odors coming from the garbage disposal.
Roto 24/7, A Licensed & Insured Plumbing Company On Long Island
Roto 24/7 has over 20 years of experience to back us up. Not to mention the recommendations and our work ethics.
To view some of our projects, click on "projects and photos". Once you are on the page, you can click on the photos to enlarge them to see just a sample of what we have tackled and taken care of.
Our prices are fair and can not be matched by our competitors. No one comes close to what we can accomplish for you. We work to get the job done to correct the first time, so you will not need us to come back a second time in a matter of days or weeks.
It is highly recommended, however, to have your plumbing inspected at least once a year. So make sure to schedule follow-ups with us to keep up with what was already repaired and to make sure nothing else needs to be touched at that time.Plumber In Kings Park
Call Us Today For The Best Plumber In Kings Park
Our services as a plumber in Kings Park stretches all over Suffolk County, and we want to keep it going. Let us show you we are reliable, professional and resourceful. Give us a call today at (631) 994-9752 to schedule an inspection from us.
Contact Roto 24/7 for for your plumbing emergencies.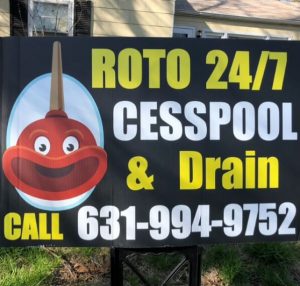 Contact Roto 24/7 for Drain Cleaning Today!
24 Hour Emergency Services

Sink Drainage & Drain Cleaning

Rooter Services

Clogged Toilet

OUR LOCATION
Roto24/7
10 Plantation Dr.
Smithtown, NY 11788
CONTACT US
24 Hours a day, 7 days a week
(631) 994-9752