Sewer drains are passage channels for a variety of wastes in different types of forms and sizes. Over time, the materials can start crowding hence forming a blockage that may result in substantial problems for a home or any business premise. The clog makes the drain full, hindering the flow of other incoming wastes.
The easiest way for you to detect such problems is when you start experiencing a slow-moving drain or, in the worst case, when there are backups. Also, if your sink or pipes produce a sound during water flow, then it's a reason to source for sewer cleaning services immediately. Rather than unclogging your drains, sewer cleaning Suffolk County is beneficial to you in the following ways.
Professional Long Island Plumbing
Since sewer lines are not part of the house that you get in contact with on a day-to-day basis, the only time you realize their importance is when you start having back-flow from your drains. Sewer cleaning is essential because it helps in detecting any underlying risks before they escalate into more significant damages. Cases like leaks may become continuous, and in the long run, the water may start getting in your walls and forming cracks. Furthermore, if the source of the leak is due to excessive pressure on the line, it may lead to the whole drain bursting if not sealed; therefore, you will incur massive amounts of money to replace the entire system.
Replacing a whole sewer drain not only expensive but requires a lot of time before completing the entire process. The cost of labor is high since you will need at least two experts, and replacing items that are beyond repair takes time; hence you get inconveniences highly as you have to put on hold some of your household activities. Regular sewer cleaning Suffolk County plays a crucial role in shielding you from such occurrences. The experts will impact you with knowledge on how to detect potential problems and when to call for help. Early signs of problems in your sewer lines include overflowing of water, constant plumbing fixtures, and leakages, among others. Solving these problems at an early stage is cheap and also takes minimal time.
Although sewer drains transport all kinds of wastes, they should only have good bacteria around them. When the wastes start building up, the pipes clog, and since there is a continuous inflow, the pressure will force the debris to come out of any closest exit. You will notice all sorts of solid in grey liquid coming out through the drains of your sinks, tubs, and any other relevant areas. The appearance exposes you to health risks since all the bacteria happen to contact with the available surfaces. During cleaning, there is an introduction of bacteria-killing products that eliminate any harmful elements, thus creating a conducive environment for only good bacteria.
Sewer Cleaning Suffolk County not only keeps your drains open but also prevents you from any health risks that may come with the relevant wastes. Ensure you schedule regular inspections and maintenance for you to have a smooth stay and focus on other important goals. It saves you money that you can change spend on other projects.
We are also an Emergency Plumber Long Island. Call today
Contact Roto 24/7 for for your plumbing emergencies.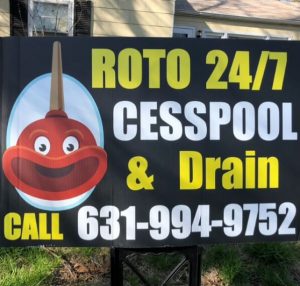 Contact Roto 24/7 for Drain Cleaning Today!
24 Hour Emergency Services

Sink Drainage & Drain Cleaning

Rooter Services

Clogged Toilet

OUR LOCATION
Roto24/7
10 Plantation Dr.
Smithtown, NY 11788
CONTACT US
24 Hours a day, 7 days a week
(631) 994-9752