There is a company called Roto 24/7 that offers Sewer Cleaning Kings Park as one of their services. Just because you don't have a cesspool, does not mean you won't ever get a clog in the sewer line.
Don't worry, Roto 24/7 has heard all the stories about kids dropping things in the toilet to see if they will flush, or grandkids that try to see if a particular soap actually floats.
So, whatever the reason, they can help retrieve what was flushed.
To say Sewer Cleaning Kings Park is an art may be pushing it a bit, but you really need to know what you are doing. Roto 24/7 has over 20 years of experience in this field and they provide their services to residential as well as commercial clients.
They are as determined as they are compassionate about helping to bring plumbing normalcy to every client.
Kings Park Sewer Cleaning Professional Services
If you have accidentally dropped a tin of used cooking oil down the kitchen sink and have clogged the main line, not to worry, they will know exactly what to do.
Moreover, they do it without charging you an emergency fee. Even if it's after 5pm and all other services would push you off until tomorrow, not Roto 24/7. They take care of your waste trap lines, sink and toilet clogs, sewer lines, cesspool issues and so much more.
For a peek in to all the services they offer, please visit our main website. There you will even find a photo gallery of work that they have completed. Need help in locating your cesspool?
Call <strongRoto 24/7 at (631) 994-9752 because they are not just Sewer Cleaning in Kings Park, but servicing all over Long Island.
Furthermore, they are licensed and insured, work crazy hours and charge you fair pricing. Don't mess around with the unknown, depend on experience, expertise and Roto 24/7.
Contact Roto 24/7 for for your plumbing emergencies.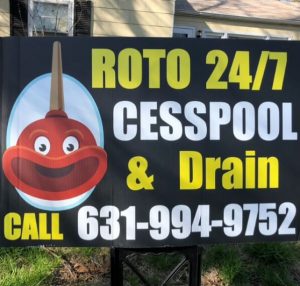 Contact Roto 24/7 for Drain Cleaning Today!
24 Hour Emergency Services

Sink Drainage & Drain Cleaning

Rooter Services

Clogged Toilet

OUR LOCATION
Roto24/7
10 Plantation Dr.
Smithtown, NY 11788
CONTACT US
24 Hours a day, 7 days a week
(631) 994-9752