Need A Professional Plumbing Company in Hauppauge?
Whether you are building a new home or renovating your kitchen and bathroom, your plumbing needs should be left in professional hands to make your home fully functional.
Therefore, if you are looking for a plumbing company in Hauppauge, look no further than Roto 24/7.
Who are we?
ROTO 24/7 is a plumbing company offering a wide range of plumbing services to residential and commercial buildings. We provide comprehensive plumbing services to small, medium-sized, and large properties in Hauppauge and beyond.
ROTO 24/7 is a reliable, honest, and reputable plumbing company in Hauppauge. We have garnered unrivaled professionalism in plumbing and drainage with years of experience working with residential and commercial property owners, institutions, and individuals.
Our range of plumbing services includes basic installations, repairs, maintenance, and even emergency plumbing within the Hauppauge area.
Why choose us?
We understand that your property is a massive investment, and plumbing is one service you need to keep it in top shape and increase its lifespan. We also understand that even minor leaks can lead to major issues that threaten your safety and the value of your home.
That is why we keep our doors open 24/7 to help you with plumbing emergencies in Hauppauge.
We offer quick responses to ensure all your plumbing needs are met and damage is kept in check. We also specialize in installations, repairs, and maintenance of water heaters, water pipes, drainage systems, bathroom and kitchen sinks, faucets, etc. We find no task too small or job too complex.
Regardless of your plumbing needs, you can trust our team of highly trained and certified plumbers to offer long-lasting plumbing solutions you can count on. We also provide quality services at affordable fees.
Comprehensive plumbing solutions
ROTO 24/7 has years of experience offering the most comprehensive plumbing services without skimping on quality. We guarantee 100% customer satisfaction with all our services and products.
Affordable plumbing services:
ROTO 24/7 offers affordable plumbing solutions that help you save costs with reliable services and products. Our installations, repairs, and maintenance are pocket-friendly and highly effective to ensure you do not come back frequently with the same problem.
Round the clock services and support:
ROTO 24/7 is always ready to receive your calls and offers same-day services at any time of the day, day and night. Our staff works 24/7 to meet all your emergency plumbing needs.
Our services
Most property owners ignore plumbing until everything breaks loose. At ROTO 24/7, we offer professional plumbing services to solve your plumbing needs before they become a major concern. Our range of comprehensive services is highly reliable, effective, cost efficient.
Here are some areas we specialize in:
Water heater installations, repairs, and maintenance: ROTO 24/7 helps keep your water heaters in top shape with professional installations, repairs, and maintenance. We specialize in all types of electric and gas water heaters.
Installations, repairs, and maintenance of sinks and faucets: Do not let your sinks and faucets become a major concern. We provide a range of services, including installations, repairs, and maintenance of kitchen, bathroom, and utility room sinks and faucets.
Water pipes repair: whether your water pipes leak or are completely broken, ROTO 24/7 can fix it. We detect leaks and repair water pipes to ensure a steady water flow in your home or office.
Other services include:
Drain cleaning
Installation and maintenance of garbage disposal
Installations, repairs, and maintenance of bathtubs and showers
Backflow prevention
Are you looking for a reliable plumbing company in Hauppauge? To learn more or to schedule an appointment, please give us a call at (631) 994-9752 or send us an email. We are available 24/7 and are standing by to assist you!
Contact Roto 24/7 for for your plumbing emergencies.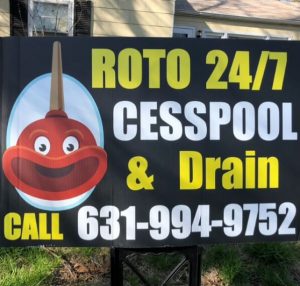 Contact Roto 24/7 for Drain Cleaning Today!
24 Hour Emergency Services

Sink Drainage & Drain Cleaning

Rooter Services

Clogged Toilet

OUR LOCATION
Roto24/7
10 Plantation Dr.
Smithtown, NY 11788
CONTACT US
24 Hours a day, 7 days a week
(631) 994-9752