When you live in one place long enough, you are bound to face plumbing problems. Naturally, some are going to be more frustrating than others. But there is no avoiding common situations, such as clogged drains or toilets. The question is how do you handle these situations? You can choose the DIY route and address the problem by yourself – but this will not always be your best bet. Perhaps you should call a Plumber St James?
The following reasons for hiring a plumber are meant to give some perspective on the matter. At face value, you could save a few dollars when you try to do the fixing. But take a few moments to consider why calling professionals like Roto 24/7 remains the smart choice.
It is not just residential areas that struggle with plumbing systems. In fact, commercial buildings that host many people throughout the day are even more vulnerable to clogged drain issues. So even if you want to unclog the drains at your place of business, it is slightly different than doing it at home. And do you really want to expose your clients or consumers to a bad smell longer than you have to?
Plumber in St. James
An experienced plumber like Roto 24/7 is able to handle any plumbing emergency, regardless of whether you need them at home or at your business. But this is just the start of more good things.
Plumbing problems can be tricky because the source of the problem might not always be obvious. And this is why expert plumbers assess the situation first. Only after establishing the real problem will he or she continue to fix it. The last thing you want is for the problem to get worse, which can happen when the issue is not properly assessed.
How many plumbing tools do you have? If you are like most people, you probably just have some basic screwdrivers lying around somewhere. This is because you do not face plumbing problems every day. Luckily, a plumber will show up with all the necessary tools to get the job done. More importantly, they know exactly how to use these tools.
Sewer And Drain Rooter in St. James
As mentioned earlier, you want the problem sorted out as fast as possible. But without experience or the right tools, time can likely become an issue. Even when the issue is at your home, do you really want to stretch it out? Because the situation only gets more unpleasant as time passes.
Nobody can predict when a plumbing problem is going to surface. Which brings up the question, what do you do when you need help in the middle of the night? The answer is pretty simple. Call experts like Roto 24/7 and ask for a Plumber St James. In addition to servicing commercial and residential areas, they operate all hours of the day.
Nobody is forcing you to call a professional Plumber St James. But can you honestly think of reasons not to?
For an Emergency Plumber in St. James, call our professionals today.
Contact Roto 24/7 for for your plumbing emergencies.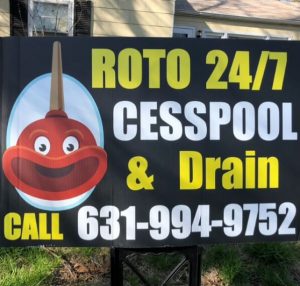 Contact Roto 24/7 for Drain Cleaning Today!
24 Hour Emergency Services

Sink Drainage & Drain Cleaning

Rooter Services

Clogged Toilet

OUR LOCATION
Roto24/7
10 Plantation Dr.
Smithtown, NY 11788
CONTACT US
24 Hours a day, 7 days a week
(631) 994-9752