Whether you need a commercial or residential plumber in Smithtown or the surrounding area Roto 24/7 has the services available for you. Roto 24/7 is an operator-owned and-run plumbing and septic tank servicing company in Long Island, Smithtown, and the surrounding area.
This means we will not send out subcontractors or middlemen to the job you hire us for. We use state-of-the-art equipment and can be available twenty-four hours a day seven days a week.
Our twenty-plus years of plumbing experience make us the perfect candidate if you are looking for a routine appointment or emergency plumber in Smithtown.
What is more, we are fully licensed and insured for both commercial and residential plumbing.
Sewer Plumbing In Smithtown
Here are some of the ways our routine and emergency plumber in Smithtown can help you;
1. Clogged toilets. Where toilets are backfilling or not emptying properly they can present a health risk to you or the people in your home.
Not to mention some very unpleasant consequences. Alternatively, if you are a business operating out of business premises it could present a risk to employees or customers.
You want to be sure that if you are experiencing blockages or backfills in your toilet you get it looked at as soon as possible, especially if you only have one toilet!
2. Sink drainage and drain cleaning. Maintaining your drainage is one of the best ways to prevent blockages and clogs. Blocked drains can result in poorly draining water, flooding, and the build-up of stagnant water that can cause unwelcome odors. Something that is of particular concern if you are in the restaurant trade.
We can offer drain cleaning maintenance in residential, commercial, and restaurant settings.
We can also offer restaurant and commercial drain cleaning to ensure your business (and its water flow) runs as smoothly as possible every day.
Our restaurant and commercial drain cleaning services do not stop there, as we also offer this service with the use of a camera. This can help identify any potential blockages, wear, tear, or problems with your drainage system and advice us, and you, how best to rectify any problem.
3. Roto-Rooter service and camera inspection and Roto-Rooter service. This is a method of drain cleaning or pipe repair and can address all kinds of stubborn sewer line and drainage clogs that inhibit the function of your plumbing.
It involves running water through your drains, using tools to help unclog them, or if necessary take them apart to remove clogs manually. It is a very important repair job and is designed to solve common problems of slow and clogged drains.
4. 24-hour emergency assistance. At Roto 24/7 we appreciate that plumbing emergencies don't just happen during office hours. We can provide an emergency plumber in Smithtown and surrounding areas at whatever time you might need it.
We have all of the tools, training, and expertise to handle your emergencies at any time of the day any day of the week. Just call Roto 24/7 to find out how we can help you.
To learn more about an Emergency Plumber Smithtown or to schedule an appointment, please give us a call at (631) 994-9752 or send us an email. We are available 24/7 and are standing by to assist you!
Contact Roto 24/7 for for your plumbing emergencies.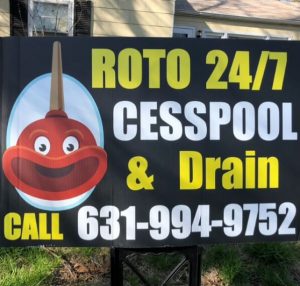 Contact Roto 24/7 for Drain Cleaning Today!
24 Hour Emergency Services

Sink Drainage & Drain Cleaning

Rooter Services

Clogged Toilet

OUR LOCATION
Roto24/7
10 Plantation Dr.
Smithtown, NY 11788
CONTACT US
24 Hours a day, 7 days a week
(631) 994-9752