At Roto 24/7 we understand that homeowners may be a little apprehensive when it comes to calling upon professionals for help.
Often choosing to attempt a little DIY and rectify any problems themselves. While it might seem like a good idea. All too often, this leads to further problems or not actually get to the root of the problem in the first place.
Call Our Emergency Plumber Nesconset
We always recommend calling upon qualified professionals, particularly where plumbing is concerned.
At Roto 24/7 we can offer non-emergency appointments and/or an emergency plumber in Nesconset or the surrounding area. We can offer these appointments twenty-four hours a day, seven days a week.
If you have a plumbing emergency, we can be there to help you with our state-of-the-art equipment and over twenty years of knowledge and experience to put your mind at rest.
Why Choose Roto 24/7 For Your Nesconset Plumbing Emergency
If you are still feeling a bit nervous about calling on an emergency plumber in Nesconset or the neighboring area, we have put together a short list of things you can do and that we do to put your mind at ease.
1. If it is an emergency, then it is a good idea to write down as much about the problem as possible. This will help you in remembering everything that has happened and telling us everything we may need to know. No information is too small or too silly.
The more you can tell us, the better. Also, don't be afraid to tell us about any of the actions you may or may not have taken before, during, or after the issue arose. The more we know about any potential problem the better armed we will be to deal with it.
2. We are owner-operated. Are you unsure about calling professionals because you don't know who will be coming to your house? Perhaps you're unsure if you're getting the right person for the job? At Roto 24/7 we don't use subcontractors, middlemen, or 'side guys'.
Roto 24/7 only will attend your plumbing problems too. What is more, we will treat your home or business premises as our own. Job satisfaction is our driving force and we will only ever provide a second to none service.
3. We won't confuse you by talking in jargon. We will explain any problems and recommendations in a way that you understand. If you want more detail, we can happily provide it. If you are still unsure then please, just ask. There are no silly or small questions.
We appreciate that we are working on your home or business premises and that it is one of the most important assets you have. We want you to be comfortable and assured that you are in the best hands. Neither will we rush you into making any decision.
4. As for customers' biggest worry, the price, we can assure you we will be transparent with our pricing and are committed to providing the best prices.
We will not be beaten on price by our competitors. So whether you need a routine or emergency plumber in Nesconset, get in touch with Roto 24/7. To learn more about an Emergency Plumber Nesconset or to schedule an appointment, please give us a call at (631) 994-9752 or send us an email. We are available 24/7 and are standing by to assist you!
Contact Roto 24/7 for for your plumbing emergencies.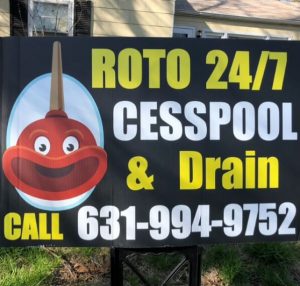 Contact Roto 24/7 for Drain Cleaning Today!
24 Hour Emergency Services

Sink Drainage & Drain Cleaning

Rooter Services

Clogged Toilet

OUR LOCATION
Roto24/7
10 Plantation Dr.
Smithtown, NY 11788
CONTACT US
24 Hours a day, 7 days a week
(631) 994-9752