Why Use A Professional Emergency Plumber East Northport?
Roto 24/7 can offer an emergency plumber in East Northport and surrounding areas to tend to all of your plumbing emergencies twenty-four hours a day, seven days a week. We pride ourselves on our first-class service and twenty years of plumbing experience.
On Call, East Northport Plumbing Emergencies
Unfortunately, not all plumbing emergencies happen during office hours. In fact, you can pretty much guarantee any significant emergency will happen when you least expect it.
The heating will always let you down in the winter. It will affect the water supply at the height of summer and your toilet will back up just as you get ready for bed. If you find yourself in this situation, you will want a trustworthy and reliable plumber who you can call upon to get the job done quickly and right the first time.
Tips When you find yourself in a plumbing emergency
Here we have put together some plumbing emergencies you will want to call upon the professionals to help you with.
1. Flooding. Flooding is a telltale sign of a plumbing emergency that could cause serious damage to your possessions or even your home.
Flooding could be caused by a burst pipe, leak, or blocked drain and will need to be rectified as soon as possible.
2. No water? You turn on the faucet only to find nothing happens.
Quickly check with your neighbor to see if they are experiencing the same problem, as it may be an issue that you need to address with the water supplier. If not, then contact a plumber as soon as possible as everyone needs working running water.
3. Backed up toilet. If you can't unblock the toilet yourself using a plunger then it is best you contact a plumber, especially if you only have one toilet in your house! A blocked toilet could result in a risk to health and some very unpleasant consequences.
While on the subject of toilets, an overflowing toilet is just as much of an emergency. An overflowing toilet can also present a risk to the health of you and your family members but also cause potential damage to your property or possessions.
4. Burst pipe. No running water or water seeping out of the pipes can be an indicator of a burst pipe if, of course, the damage isn't immediately obvious. If you expect a burst pipe you should contact a plumber immediately as this is a surefire emergency.
Burst pipes can cause serious damage. A plumber will be able to fix and replace the pipe if necessary and prevent any further damage from being caused. Not to mention, ensure your water bill stays down.
5. Blocked drains. If you notice your drains aren't clearing as they used to and water is pooling, then contacting a plumber is your best bet. Chances are there is a blockage or clog in your drainage system. Water that has nowhere to go will start to overflow and cause flooding and an unpleasant smell.
Also, if it is left untreated it will get worse!
Call Roto 24/7 For All Your Roto-Rooter Needs
If you find yourself in any of the above situations, then don't be afraid to contact Roto 24/7 so we can send out an emergency plumber in the East Northport or neighboring areas to help you with your plumbing emergencies, whatever time of day it may be. To learn more about an Emergency Plumber East Northport or to schedule an appointment, please give us a call at (631) 994-9752 or send us an email. We are available 24/7 and are standing by to assist you!
Contact Roto 24/7 for for your plumbing emergencies.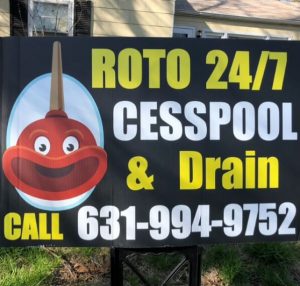 Contact Roto 24/7 for Drain Cleaning Today!
24 Hour Emergency Services

Sink Drainage & Drain Cleaning

Rooter Services

Clogged Toilet

OUR LOCATION
Roto24/7
10 Plantation Dr.
Smithtown, NY 11788
CONTACT US
24 Hours a day, 7 days a week
(631) 994-9752