As a homeowner, it will only be a matter of time before you need to call out a plumber for some professional help. You may feel confident in attending to some of the smaller jobs yourself but in certain plumbing situations like a burst pipe or backed up toilet you don't want to get wrong or make things worse. Emergency plumber Dix Hills is what you need!
Plumbing Problems? Emergency Plumber Dix Hills
At Roto 24/7 we can offer an emergency plumber in Dix Hills and neighboring areas to tend to your plumbing emergencies or needs.
We have over twenty years' experience and are a locally run, reliable business. We will get the job done right the first time.
If you find yourself in a plumbing emergency here are some top do's and dont's;
1. Don't ignore it.
Ignoring the backfilling cistern or overflowing drain will only make the problem worse and harder to rectify not to mention you could potentially cause more damage. The best thing you can do if you suspect a plumbing problem is to act fast to avoid further problems.
If you think you need a plumber, emergency or not, don't put it off, call us today.
2. Do shut the water off.
If you have a bust pipe, then it is imperative you shut the water off right away. You may need to look for a valve if the leak is in the toilet or faucet.
If that isn't working or you have a significant leak you may need to shut the entire water supply off. Once you have done this, tend to the leak to avoid as much water damage as possible.
You may need to place a bucket underneath a leak or starting to mop up. You will want to avoid causing further water damage as best you can.
3. Don't DIY.
It may be tempting in the time of an emergency, but tinkering with your own plumbing when you are not sure what you are doing can make matters worse.
You might be tempted to use strong chemicals to try to unblock a drain yourself but not only could this cause long-term damage to the draining system such as erosion or corrosion it is potentially very dangerous for you and those in your home, especially if you are mixing commercial or industrial-strength chemicals.
What is more, they will not get the job done effectively. If it could erode a drain pipe, imagine the harm you could do if you inhaled the chemical mixture. Some jobs are best left to the professionals.
4. Do call a plumber.
If you find yourself in an emergency plumbing situation, then it is always best you call a plumber.
Roto 24/7 can offer an emergency plumber in Dix Hill and surrounding areas to help you twenty-four hours a day seven days a week. We are an owner-operated, personal service and pride ourselves in the first-class service we offer.
We are here to help you at whatever time you might need it, so don't be afraid to get in touch with your plumbing needs. To learn more about Emergency Plumber Dix Hills or to schedule an appointment, please give us a call at (631) 994-9752 or send us an email. We are available 24/7 and are standing by to assist you!
Contact Roto 24/7 for for your plumbing emergencies.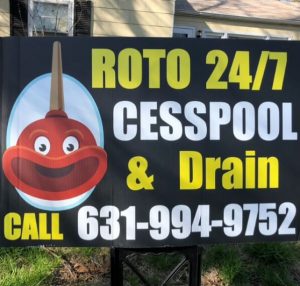 Contact Roto 24/7 for Drain Cleaning Today!
24 Hour Emergency Services

Sink Drainage & Drain Cleaning

Rooter Services

Clogged Toilet

OUR LOCATION
Roto24/7
10 Plantation Dr.
Smithtown, NY 11788
CONTACT US
24 Hours a day, 7 days a week
(631) 994-9752