Looking For A Professional Drain Cleaner St. James, Long Island? Drain cleaning is one of the most common home maintenance issues and can cause one of the biggest headaches for homeowners.
Not only can a blocked drain be a huge inconvenience, it can cause some potentially very serious problems.
Roto 24/7 is a personable plumbing business that is dedicated to helping homeowners in St James and the neighboring areas to avoid these headaches by offering high-quality and reliable drain unblocking, cleaning, and maintenance services twenty-four hours a day seven days a week.
With over twenty years of experience, we know we can get the job done right the first time. So if you are looking for a drain cleaner in St James then Roto 24/7 have you covered.
How do you know if your drain is blocked?
While in many instances a blocked drain may be obvious to spot, there are times when you may not notice it happening. Allowing a drain to block and leaving it untreated for a length of time will only make the problem worse.
So here are some things to look out for and that signal it may be time to look for that drain cleaner St. James.
1. Bad Smells
One of the most common and easy symptoms to identify is a bad smell coming from the pipes. The smell may not be constant all day but it will be present when you run water through the pipes.
For example, if your shower pipes are blocked the smell should be more prevalent when you take a shower. If you start to notice an unwelcome odor from your pipes, then it is definitely time to have your pipes cleaned. Leaving it will only allow the blockages or clogs to build up and make the problem much worse and harder to treat.
2. Slow Draining Sinks
Another tale-tell sign that there may be a blockage or underlying problem with your drainage system is slow draining water, be it from your sink, shower, or bathtub.
If you notice the water is draining a lot slower than it did it is likely there is an underlying problem. In more serious cases water may not even drain at all or require a plunger for it to start clearing. In this instance, you should be calling the experts to carry out a professional unblocking and service of your drainage system.
3. Toilet Drainage Problems
If you notice that the water levels in your toilet are rising or even overflowing after flushing, this is a very good indicator of a drainage problem that will require treating and leaving it unattended could cause the toilet to back up.
4. Gurgling Noises
Should you start to notice gurgling noises from any of your plug holes this could be indicating that there is trapped air in the drainage system?  This will inhibit the flow of water through the pipes and could even cause rust or corrosion to the pipes so it should not be left untreated.
Hire a Drain Cleaner St. James at Roto 24/7 Plumbing Services
If you notice any of the above, then Roto 24/7 can help you.
We have the knowledge and expertise from our years of experience and pride ourselves in being able to serve our customers in and around St James effectively and efficiently.
So if you need a drain cleaner in St James then contact Roto 24/7 for how we can best help you. To learn more about a Drain Cleaner St. James or to schedule an appointment, please give us a call at (631) 994-9752 or send us an email. We are available 24/7 and are standing by to assist you!
Contact Roto 24/7 for for your plumbing emergencies.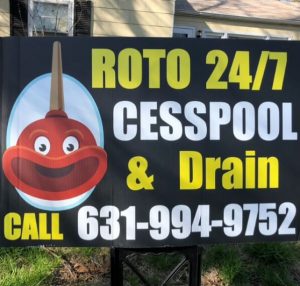 Contact Roto 24/7 for Drain Cleaning Today!
24 Hour Emergency Services

Sink Drainage & Drain Cleaning

Rooter Services

Clogged Toilet

OUR LOCATION
Roto24/7
10 Plantation Dr.
Smithtown, NY 11788
CONTACT US
24 Hours a day, 7 days a week
(631) 994-9752