When it comes to the restaurant trade nothing is more important than hygiene. Nothing will turn potential customers off more than a poor hygiene rating or a bad smell. What is more, it doesn't take long for that bad smell and poor hygiene reputation to start following your restaurant name around like, well, a bad smell. Especially in the connected world we live in today, where all it takes is a badly worded Tweet or unfriendly Facebook post. Sounds like you need a Drain Cleaner Huntington.
We, at Roto 24/7, consider ourselves to be the very best drain cleaner in Huntington. We know and understand the importance of commercial cleanliness and offer a variety of specialized drain cleaning services for commercial properties.
It takes more than pouring some boiling water down the sink, after all. Call us today!
Why do professional kitchens need a commercial drain cleaner?
Did you know that one of the biggest sources of odor in buildings, be it commercial or residential, is a blocked drain?
The restaurant trade is particularly notorious for the amount of grease, oils, and fats that get poured down a commercial kitchen sink; Easily creating problems with the drainage system.
The build-up of grease, fats, and oils will clog a drain and cause water and waste to sit and become stagnant and inevitably develop a nasty smell.
Blocked drains can also cause food and wastage to get caught up in the drain, which when it is left to linger will cause that all too familiar but unwelcome odor.
If you have concerns about any smells developing around your restaurant, or any commercial premises, then Roto 24/7 has the services available for you, servicing Long Island and the surrounding areas twenty-four hours a day seven days a week.
Whether it is an emergency or routine requirement, then we can offer a drain cleaner in Huntington or the surrounding area for you.
Don't be tempted to thinking that a quick DIY fix with some chemical cleaner is all you need. While it may sound appealing, you can actually cause more harm than good and do lasting damage to your drainage system. Moreover, regular drain cleaning can offer a variety of benefits.
3 Benefits of maintaining a healthy plumbing system
Unearth potential plumbing problems: Once your pipes have been cleared of all blockages we can carry out a camera inspection of your drainage pipes to assess the condition of your drainage system. We can look for broken pipes or corrosion and advise you on the best course of action to take.
Clears years of build-up: A thorough drain clean and maintenance will help clear out years of debris build-up that may cause clogs, blockage, or bad smells. Our services will clear away waste build-up and allow the water to run freely at its original flow rate. Say goodbye to that slow draining sink you've become accustomed to.
Preventative action: Drain maintenance and cleaning isn't just about problem-solving. It can be used as a preventative method to keep your restaurant kitchen running at an optimum level every day as you are getting to the problem before it becomes a problem.
For a Drain Cleaner Huntington – Contact Roto 24/7
To learn more about a Drain Cleaner Huntington or to schedule an appointment, please give us a call at (631) 994-9752 or send us an email. We are available 24/7 and are standing by to assist you!
Contact Roto 24/7 for for your plumbing emergencies.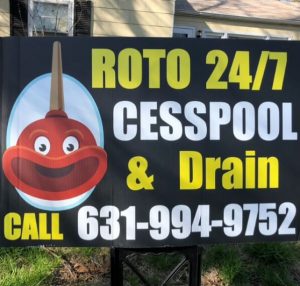 Contact Roto 24/7 for Drain Cleaning Today!
24 Hour Emergency Services

Sink Drainage & Drain Cleaning

Rooter Services

Clogged Toilet

OUR LOCATION
Roto24/7
10 Plantation Dr.
Smithtown, NY 11788
CONTACT US
24 Hours a day, 7 days a week
(631) 994-9752